Buy one here
Naboso Training Mat
Optimizing both hand and foot stimulation throughout any exercises

Barre, Yoga, Pilates and any bodyweight movements

Floorwork and standing barefoot bodyweight exercises

The unique, patent-pending material used in the Naboso™ Mind Body Mat 1.0 is based on texture research and surface science which means it uniquely stimulates the body's nervous system through the skin on the bottom of the feet. Users will notice an improvement in postural control, stability and strength.

1.0mm patent-pending textural design

5mm total thickness

4 lbs total weight

Rolls up easily and comes with a carrying strap

Ideal for foot stimulation only during training and rehab exercises
Standing Mat: € 60 (excl. VAT)
Bring the unique, patent-pending material used in all Naboso™ products to your home and office. Introducing the Naboso™ Standing Mat measuring 21" x 24" to conveniently integrate into any home or office setting!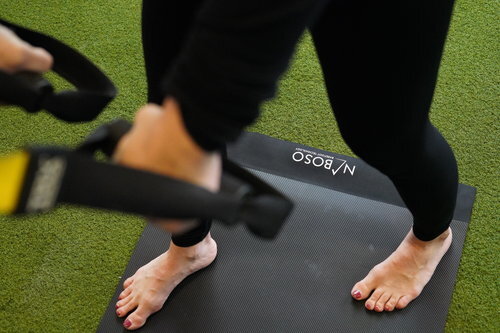 Normal Mat: € 109 (excl. VAT)
The unique, patent-pending material used in the Naboso™ Training Mat 1.5 is based on texture research and surface science which means it uniquely stimulates the body's nervous system through the skin on the bottom of the feet. Users will notice an improvement in postural control, stability and strength.
Pro Mat: € 129 (excl. VAT)
Make your gym, studio or clinic ready for the most optimal barefoot training yet! Get ready fro the first-ever proprioceptive surface that is idea for facility use and is intended for enhancing muscle activation, movement prep and human performance. The Naboso™ Pro Mat is currently being integrated by coaches and trainers for athletes in the NFL, MLC, NRL, plus many other sports such as skiing, rowing and dance.